Bournemouth Airport
March 2021 Update
We all look forward to welcoming passengers back to the Airport!
I'm delighted to tell you that Bournemouth Airport has today published its annual destination guide, "FLY", giving holidaymakers a wide choice of destinations on their doorstep and a welcome return to commercial air travel.
The launch follows surge of interest and bookings for 2021 and 2022 holidays, fuelled by the Government's announced roadmap to ease lockdown restrictions.
FLY Bournemouth 2021-22 features 29 destinations in 13 countries, including Barbados, Cyprus (Paphos), Greece (Corfu, Crete, Kefalonia, Rhodes, Zante), Italy (Bergamo), Ireland (Dublin), France (Bergerac), Lapland (Enontekio, Pajala, Ivalo), Malta, Norway, Poland (Krakow), Portugal (Faro), Spain (Alicante, Girona, Gran Canaria, Ibiza, Lanzarote, Malaga, Majorca, Murcia, Tenerife), Turkey (Antalya, Dalaman), and Switzerland (Geneva).
As well as the wide range of destinations, FLY Bournemouth 2021-22 showcases the benefits of flying local, including a quick journey to the airport, parking close to the terminal, short check-in and security times and total step-free access from the terminal entrance to flight boarding.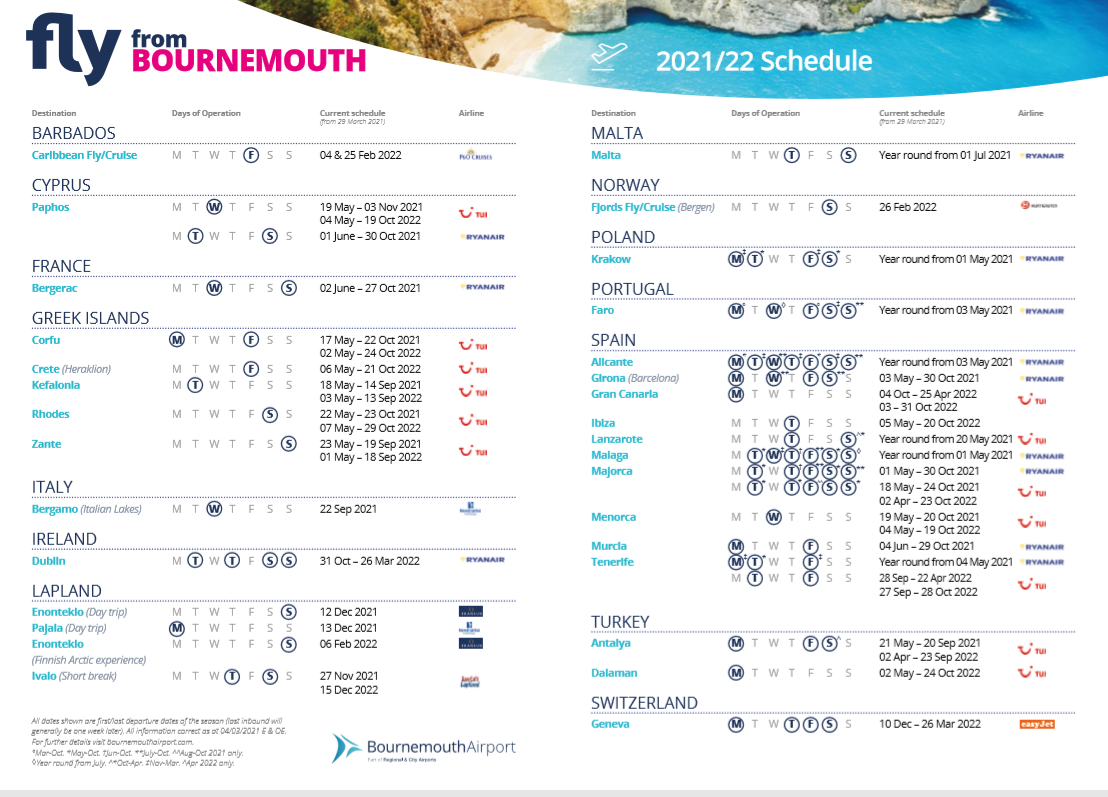 October 2020 Update
Dear Members,

First of all, I do hope that this finds you and your families well in these difficult times.

The Covid pandemic has had a marked impact on the aviation industry as a whole and has provided distinct challenges at Bournemouth Airport.

The changing position of the Government and constant updates to the travel corridor authorisations has seen passenger figures drop and commercial movements reduced. At the end of the summer, our limited flights dropped further, however, at present, Ryanair intends to fly seven routes per week from Bournemouth in the winter and TUI is reviewing its position on a weekly basis.

As you can imagine, managing the airport, its staff and meeting expectations of a dropping number of passengers sees our plans change on a regular basis.

Notwithstanding this, we are working hard to match our resources and manpower to the tasks in hand and provide some form of stability for our staff. Unfortunately, we have had to make a number of redundancies but are hoping that, by using the Government's job support scheme, we can minimise any further impact.

On the positive side, adversity always brings opportunity. We now have a five-day a week Belfast cargo schedule and will shortly resume flights to China to collect more PPE for the NHS. In parallel, we have some other exciting cargo opportunities under development and hope to update you all once they are flying.

GA flying continues to be healthy, alongside a robust business with XLR. We are working hard with all our partners and customers to provide the best service feasible throughout the winter months. At present, next summer's bookings are looking promising, nevertheless, we await the outcome of the Government's vaccination programme or change in travel policy.

May I take this opportunity to thank you all for your support in what has been a difficult eight months and we look forward to working with you throughout the winter and beyond. Despite the challenges, we are sure that Bournemouth Airport continues to have a bright future.

Kind regards,

Tim Etches
Operations Director