Latest News
Our AGM was held on the 30th March in the Hall on the Hill, Marlow Drive BH23 2RR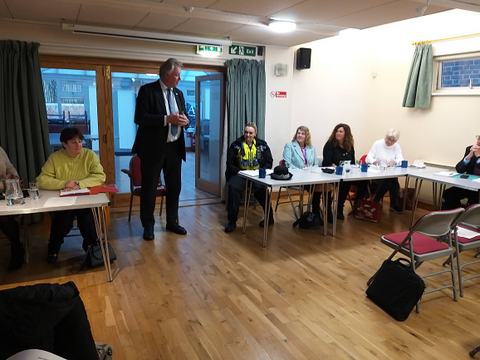 David Sidwick, the Police and Crime Commissioner for Dorset was present for a question and answer session 

Also in attendance answering questions for local residents:
Anna Lillywhite - PCSO for Christchurch West
Margaret Phipps -  Ward councillor for Christchurch in BCP 
Vanessa Ricketts -  Ward councillor for Christchurch in BCP 
Sue Bungey - CTC and Mayor of Christchurch
Sue Fotheringham - CTC 
Carol Gardiner - CTC
Robert Luscombe - CTC



COMMITTEE MEMBERS ARE STILL NEEDED!

We are in need of a Treasurer, Membership Secretary and future Chairperson.

We would also welcome any general committee members who would like to become involved in the association.

If you or someone you know (with their permission) would like to become a Committee member please complete a nomination form and email it to enquiries@wcresidents.co.uk or by post to Jumpers and St Catherine's Hill Residents Association at 83 Hillside Drive, Christchurch, BH23 2SZ. Download a Nomination Form

---
Click to view the results of the 2021 Christmas Garden Lights Competition
See a selection of some of 2020 year's entrants
We are run by a committee of volunteers who give their time free of charge in an effort to protect the environment that we all enjoy whilst living in this beautiful area.
Our membership is over 1,500 households who each pay a yearly subscription of one pound per residence.
Throughout this site, Christchurch Borough Council is referred to as 'CBC' and Dorset County Council is referred to as 'DCC'. The new combined Bournemouth-Christchurch-Poole unitary authority is referred to as 'BCP'.
'WCRA' means West Christchurch Residents Association, which was our name prior to 10th May 2017 when we were obliged to change our name for legal reasons. There is a company registered in May 2017 by a resident of Ringwood called West Christchurch Residents Association Ltd with which we have no connection. Any communication that you receive from West Christchurch Residents Association Ltd has not originated from us.
Christchurch Online A dedicated website to help the community of Christchurch, Dorset to find services, businesses and delivery options during the COVID-19 pandemic
---
Subscription Renewal

Your £1 subscription is due for payment once a year from April. If you wish to include an additional donation that will be gratefully received in these difficult times

To pay by inter-bank transfer send your contribution to account: Jumpers & St Catherine's Hill Residents Association, account number 92732106, sort code 40-13-07
Don't forget to use your address as a reference

To pay by post or hand deliver send your contribution together with a note of your address to Jumpers and St Catherine's Hill Residents Association at 83 Hillside Drive, Christchurch, BH23 2SZ.

These Newsletters inform residents of any important issues, or events, by an e-mail directly to your inbox. There is no cost for this service and the sole intention is to inform you of any important updates. If you would like to be included in this service please follow the Newsletters link on the left.

Contact Us

If you would like to join send us your contact details including the first line of your address and we will arrange to collect your membership subscription.

To see notes on your membership and the Data Protection Regulations May 2018 click on GDPR

Welcome to the Neighbourhood Brochure

Thank you to Ivor Goddard, Mrs E A Weaver, Pauline Griggs and John Spittle for their photographs used in this website.

Some files on this site are in Portable Document Format (pdf) and you will need Adobe Reader to view them. If you are unable to display them you can download Adobe Reader free from here.

Explore the Christchurch area
---
In compliance with the European Directive on privacy and security related to websites that came into force on 26th May 2012 this site does not use cookies.